4
mins
Animana Release Highlights: Version 4.21
This version of Animana contains several bug fixes, security improvements, and behind the scenes enhancements. It also includes the following changes:
New: Never miss an external laboratory charge again!
There's a lot going on in your practice and we know how easy it is to forget to add the external analysis to the invoice when you're busy packaging the sample and booking a collection. Missed charges can account for up to 20% of practice revenue. So, we're pleased to announce that in this version of Animana we're making missed external laboratory charges – and the related awkward conversations they can cause –  a thing of the past!
When enabled, orders placed to the IDEXX Reference Laboratory via IDEXX VetConnect PLUS will also automatically have the product charges added to the patient's open invoice, which can be emailed, posted, or paid immediately.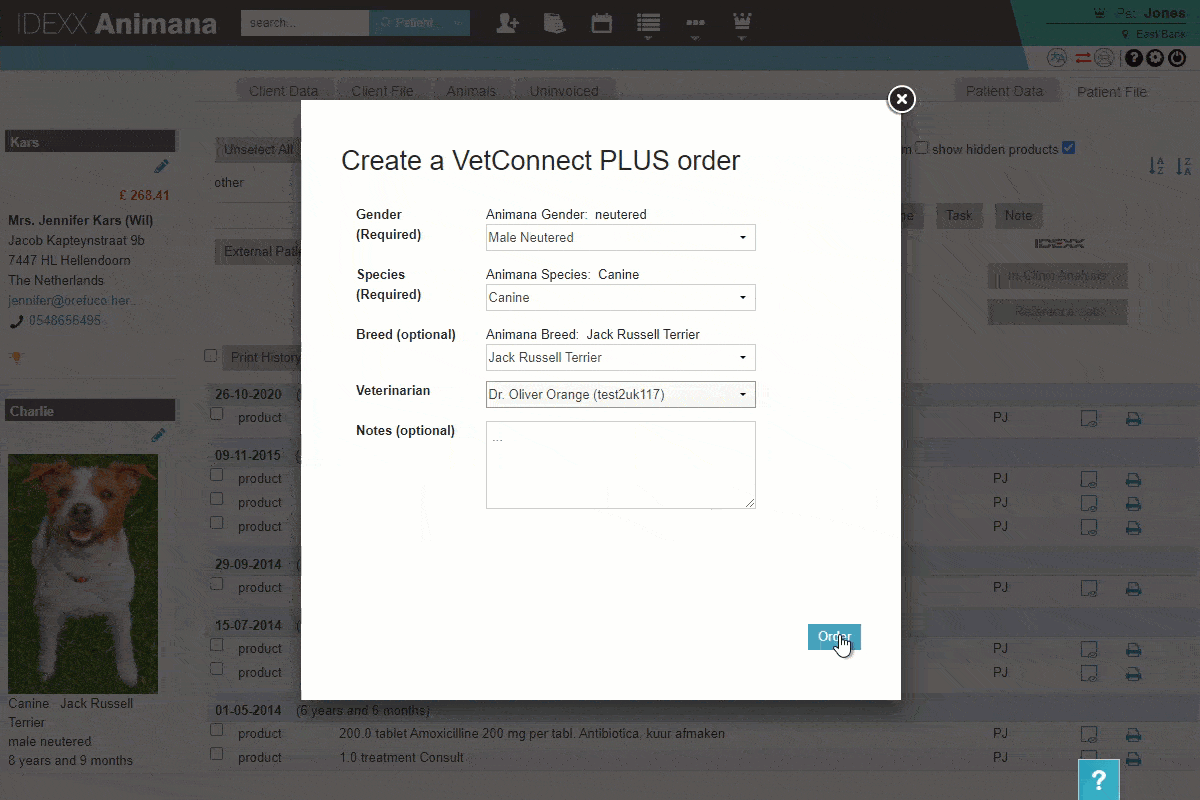 To enable this functionality please see our Knowledge Base article here, or for more information contact Animana Customer Support.
New: Updated insurance companies
We have updated the list of supported insurance companies for the United Kingdom, Ireland, and Denmark. Please refer to the changes below for your region.
United Kingdom
Insurance companies now available in the patient file:
4Paws Pet Insurance
Ageas
Bought By Many
Co-op Pet Insurance*
Everypaw
Four Counties Insurance
The Healthy Pet Club
Hearing Dogs for Deaf
Horse-Insurance.co.uk
The Insurance Emporium
The Insurance Factor
InsureYourPaws.co.uk
Lycetts
NCI
Perfect Pet Insurance
Puffin
Royal Bank of Scotland
Scratch & Patch
Simply Health
Towergate Insurance
Trent Services
UI Pet Insurance
UIA Insurance
VIS
Waggel
We love pets
Changes to eClaims:
Co-op Pet Insurance is now supported
Sainsbury's has been removed from eClaims (remains available for manual claims)
LV= has been removed from eClaims (remains available for manual claims)
*previously available as "Coop Pet Insurance"
Ireland
Insurance companies now available in the patient file:
Denmark
Insurance companies now available in the patient file:
Codan
Lærerstandens Brandforsikring
More Livestock Visit Form fields in Client Portal
Further to our ongoing improvements to the Client Portal, we've improved the Visit Form section to include the fields 'History', 'Findings' and 'Plan', from the Animana livestock visit form. These three additional fields will show automatically for each herd, if the fields be empty they will show as "N/A".
Added Application Programming Interface (API) capabilities
The Animana API makes it possible for other programs to interact with each other. We're continually working on our API to enhance the capabilities to securely exchange data between Animana and other applications, allowing us to work with other partners. In this release, we are adding more data points for external parties to access from Animana.
To learn more, or to access the Animana API documentation, please visit http://help.animana.com/api.
We hope you enjoy working with the new features and improvements we've introduced in this version of IDEXX Animana. If you have any questions about any of the changes listed above, don't hesitate to check the Knowledge Base or get in touch with Animana Customer Support.
Let's talk about what IDEXX software can do for your practice
Complete the form below and we'll get back to you.