3
mins
Animana Release Highlights: Version 5.1
This version of Animana contains several bug fixes, security improvements, and behind the scenes enhancements. It also includes the following changes:
Further enhancements to the New Contact page
Further to your requests and our commitments to improve the quality of your data, we've completed another phase of improvements to the New Contact page.
In this release, we focussed on improving the phone fields. The layout is now clearer and the default phone number type is mobile, a top request from our customers. Another critical change is that adding at least one number is now mandatory – but don't worry; if your contact does not have a phone number, or does not wish to supply one, tick "Contact doesn't have a contact number".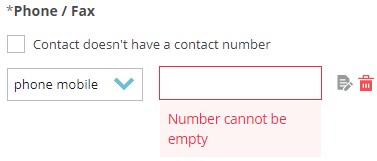 Excitingly, this improvement also paves the way for automatic phone validation, which will be coming to Animana very soon.
Here's a quick FAQ on the changes:
Why are you making these improvements?
Consistent and predictable data allows you to connect with your contacts more easily. It's easy to enter a phone number incorrectly or miss vital information that becomes important later on. It also allows the Animana software to do more for you. For example, the upcoming automatic phone number validation, which ensures the number entered is a real phone number, can only be introduced alongside data improvements.
Can I make this an optional field?
This change applies to all Animana practices. By doing this, we can deliver a better product to you.
Can I enter more than five numbers?
Once you have saved the new contact, you can continue adding phone numbers in the 'Client Data' tab by navigating to the client file and clicking on the "Client Data" tab.
What about existing contacts and numbers?
These changes affect contacts created through the New Contact page only. Existing phone numbers associated with existing contacts are untouched.
Will these improvements also be made to the Client Data tab?
In time, yes. We introduced the improvements to the New Contact page first so that clinics have time to experience the improvements.
When will the improvements be made to the Client Data tab?
While there is no date, the improvements will not be introduced in 2021 as we want you to have the time to experience the improvements first.
Added Application Programming Interface (API) capabilities
The Animana API makes it possible for other programs to interact with each other. We're continually working on our API to enhance the capabilities to securely exchange data between Animana and other applications, allowing us to work with other partners. In this release, we are adding more data points for external parties to access from Animana.
To learn more, or to access the Animana API documentation, please visit http://help.animana.com/api.
We hope you enjoy working with the new features and improvements we've introduced in this version of IDEXX Animana. If you have any questions about any of the changes listed above, don't hesitate to check the Knowledge Base or get in touch with Animana Customer Support.
Let's talk about what IDEXX software can do for your practice
Complete the form below and we'll get back to you.