5
mins
Animana Release Highlights: Version 5.2
This version of Animana contains several bug fixes, security improvements, and behind the scenes enhancements. It also includes the following changes:
Improved: Contact number validations on the new contact page
To improve data quality, we're delighted to add automatic contact number validation to the New Contact page in Animana. This will reduce human error while making it quicker and easier to add a phone number. It will also mean fewer failed SMS text messages and improved integration with systems such as Voice Over IP (VoIP).
We have also reduced the number types that can be entered – simplifying the list to 'mobile', 'home' and 'fax'.

Please note, this requirement is only for new contacts. This change does not apply to existing contacts.
Here's a quick FAQ on the changes:
How does the validation work?

It will validate according to the formatting standards of the country code entered.
For most countries, it can identify mobile vs landline and apply respective validation; so if you're getting an error that the number you're entering is incorrect, double-check the phone type is correct.
The system can detect duplicate numbers – when entered on the New Contact page. Note: the system will not check all of your contacts for a duplicate number.
Validation is performed when you exit the number box – it is not done as you type.

What formats can I enter?

The validation is smart enough to accept various formats, providing a consistent output regardless of individual user preferences. Please see the table below for an example of formats that can be entered and how they will be shown in the client info panel.

Can I indicate the type of number like I used to, e.g. office, barn?

We recommend you add additional information via the 'memo' functionality. Information entered here will be visible in the client info panel when hovering over the memo icon next to the respective number.

Can I change the way the numbers are shown in the client info panel or the client file?

When entered from the New Contact page, numbers will automatically appear in a standard international format, with no leading 0s, spaces or non-numbers. If you wish to change how this is shown, you can manually adjust the numbers' Client Data' tab.

Can a contact opt-out of text messages?

We're aware that some opt-out workflows involved entering a mobile number with a phone type of home, which prevented sending reminders. However, this is no longer possible as the validation will not let you categorise a mobile number as a landline. We advise you to enter the number as a mobile, then change the type in the 'Client Data' tab.

Can I enter more than five numbers?

Once you have saved the new contact, you can continue adding phone numbers in the 'Client Data' tab by navigating to the client file and clicking on the "Client Data" tab.

What about existing contacts and numbers?

These changes affect contacts created through the New Contact page only. Existing phone numbers associated with existing contacts are untouched.

Will these improvements also be made to the Client Data tab?

In time, yes. We introduced the improvements to the New Contact page first so that clinics have time to experience the improvements.

When will the improvements be made to the Client Data tab?

While there is no date, the improvements will not be introduced in 2021 as we want you to have the time to experience the improvements first.

Why are you making these improvements?

Consistent and predictable data allows you to connect with your contacts more easily. It's easy to enter a phone number incorrectly or miss vital information that becomes important later on. It also allows the Animana software to do more for you.
Here are some examples of some land-line formats you're able to enter:
| Country code | Number entered | Will appear as |
| --- | --- | --- |
| +44 | (0)1234567890 | +441234567890 |
| +44 | 01234567890 | +441234567890 |
| +44 | 1234567890 | +441234567890 |
| +44 | 01234 567 890 | +441234567890 |
| +44 | +441234567890 | +441234567890 |
| +44 | +4401234567890 | +441234567890 |
| +44 | 4401234567890 | +441234567890 |
Filter by attachments in the patient and client files
We have added a new 'attachment' filtering option in both the patient file and the client file, which will allow you to quickly identify and find attachments.
Long email address in the client info panel
Further to customer feedback, a client's full email address will now be shown in the client panel, making it much easier to verify an email address with your contacts. It will also make it easier to copy and paste into your email software.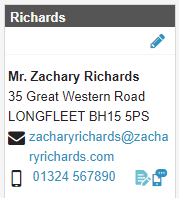 Added Application Programming Interface (API) capabilities
The Animana API makes it possible for other programs to interact with each other. We're continually working on our API to enhance the capabilities to securely exchange data between Animana and other applications, allowing us to work with other partners. In this release, we are adding more data points for external parties to access from Animana.
To learn more, or to access the Animana API documentation, please visit http://help.animana.com/api.
We hope you enjoy working with the new features and improvements we've introduced in this version of IDEXX Animana. If you have any questions about any of the changes listed above, don't hesitate to check the Knowledge Base or get in touch with Animana Customer Support.
Let's talk about what IDEXX software can do for your practice
Complete the form below and we'll get back to you.