6
mins
Animana Release Highlights: Version 7.6
This version of Animana contains several bug fixes, security improvements, and behind-the-scenes enhancements. It also includes the following changes:
Customisable patient file actions
We're pleased to announce some long-requested new functionality in the patient file, allowing you to customise patient actions. Not only can you now select which actions appear in the drop-down and which in the action button row, but you can also change the order they appear.
This customisation allows you to simplify and improve your workflow by customising the actions to suit your role – prioritising the ones you most use, and hiding the ones you don't.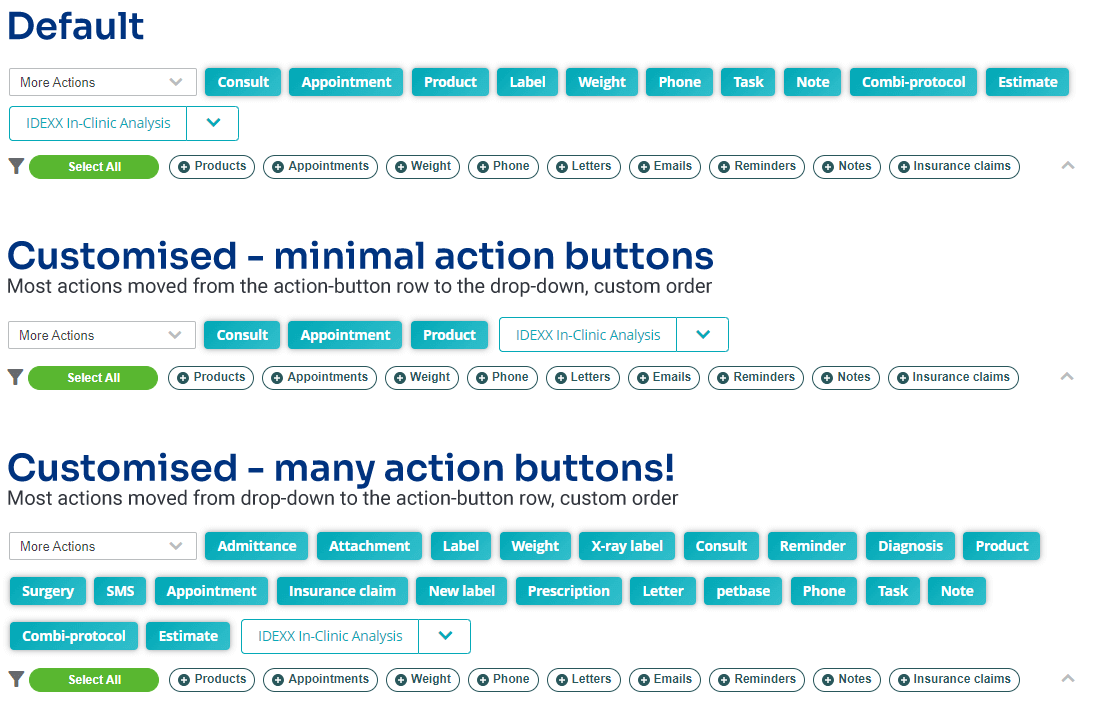 To get started with your customisation, click the "File settings" link in the patient file.

Important changes from Animana 7.5
To accommodate this new functionality, please note the following changes:
Duplicated tasks are moved to the action row.
Some items which appeared in both the drop-down and the action row, now only appear in the button row. This includes; Consult/Pathology, Weight, Phone, and Visit Form (which now only shows for livestock and equine patients). If you wish to re-order or move them to the drop-down, visit the patient file settings to customise your view.
Plugins are shown alphabetically
Plugins will no longer be shown under the "Plugins" section of the drop-down, and will now be shown alphabetically. If you wish to re-order or move them to the button row, visit the patient file settings to customise your view.
Label changes
To help differentiate "Label" in the drop-down, from "Label" in the action button row, the drop-down option has been renamed to "New label". If you wish to re-order it or change its location, visit the patient file settings to customise your view.
Diagnostics relocated
Diagnostics actions, including Lab Result and Digital x-ray, have now been moved to the refreshed diagnostics button, at the end of the action button row.
Patient file Diagnostics button
We have simplified our diagnostics workflow by creating a single entry point for diagnostics-related actions in Animana. The new patient file diagnostics button combines actions such as:
IDEXX In-Clinic Analysis (default option)
IDEXX Reference Lab
Lab Result (previously in the action drop-down)
Digital X-Ray (previously in the action drop-down)
Patient body score at a glance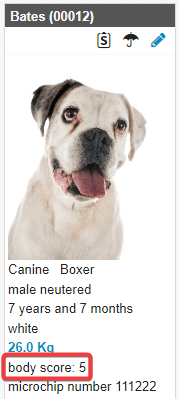 A patient's most recent body score is now shown on the patient-info panel, providing you with more information about a patient at a glance.
Define your label sizes

Animana now supports the use of custom label sizes. Define your label dimensions in Settings > General settings> General Settings> Paper Format> Label size.
Label widths from 50-100mm and heights between 25-100mm are supported.
Updated insurance companies
We have added K9 Cover, NOW Pet Insurance, and Petsure to our list of supported insurance companies for the United Kingdom.
More countries, and a better sort order
Based on feedback, we added six missing countries to the New Contact screen and Client Data > Mailing address > Country. When adding a new contact, the list of countries is now sorted alphabetically.
Countries added:
Bonaire, Sint Eustatius and Saba
South Korea
Mauritius
Armenia
Saint Martin (French part)
Sint Maarten (Dutch part)
We hope you enjoy working with the new features and improvements we've introduced in this version of IDEXX Animana. If you have any questions about any of the changes listed above, don't hesitate to check the Animana help hub or get in touch with Animana Customer Support
Let's talk about what IDEXX software can do for your practice
Complete the form below and we'll get back to you.