A flawless customer journey, it all starts in the waiting room! – Part 1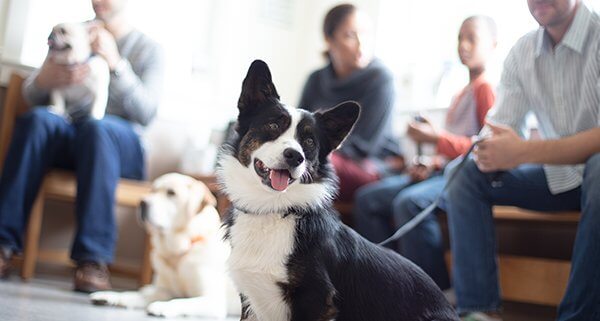 3
mins
Part 1: From valuation to expectation management
Animana's waiting time report is designed to give you a better insight into how your clinic is performing, allowing you to make adjustments for a smoother customer-patient journey; where staff, tools and protocols work most efficiently.
As a practice, you want to offer not only the best possible treatment but also the best possible customer experience for pet owners. In other words, you want to deliver efficiency, value, and care. The customer journey isn't just about passing through a well-oiled machine, but that your clients have a positive experience at your practice. Aside from patient care, customer experience can actually be seen as one of the most important 'products' you can offer to a pet owner – it is also free of charge.
The waiting room plays an important role in the customer experience – after all, it is the beginning and end of a visit to your clinic. You can see the waiting room as an effective tool for measuring (and increasing) the value of the visit, not only for the customer but also for yourself and your team. A good first and last experience in the waiting room determines not only the feeling that the customer is left with, but is also a key factor in repeat custom – or customer loyalty. Aspects such as furnishing, hygiene and the reception experiences all contribute value to the customer journey.
Efficient planning
Waiting time optimisation is mostly down to efficient planning, but it's not as simple as getting patients quickly through your practice. It's nice to have a practice bursting with patients, and a high consultation throughput, but this is also where the danger lies – are you allowing patients to be fully diagnosed? Also, many factors are beyond your control – what happens when a customer cannot find a parking space and is five minutes late? Some things you cannot plan or optimise for. For a veterinary nurse, it is also a challenge to plan waiting times and to set expectations.
Many clinics work with appointment 'blocks' where chunks of time are allocated to specific practice tasks – not just appointments. This gives the clinic the opportunity to coordinate busy and relatively quiet moments which can be used for other important work and administrative tasks, after all, it is not nice to have a full waiting room while the orders are being delivered, or floors are being cleaned – tasks which reduce customer satisfaction.
Expectation management
Nobody likes waiting, especially when  – as a customer – you are on time but the vet is delayed or has to attend to someone else "more important". A pet owner with an appointment also expects to be helped at that time (or within a 'reasonable' time period), but keep in mind that the expectations of a client may differ from your own expectations, so a five-minute run may not be a problem for you, it can be detrimental to your customer; for example, if a customer gets a ticket for overstaying parking due to a longer waiting time; despite this taking place outside the clinic, it does have a direct impact on the value assessment of the visit to the vet. In other words, make the expectations of the client discussable so you can assess them and act accordingly – communication is key.
Some tips for handling long waiting times:
Apologise when previous appointments overrun; when applicable, you can also provide the reason which often leads to sympathy;

Especially with emergencies or cases where extra care has been given. Of course, do not mention that the previous appointment ended when this person was too late.

Give all appointments the same amount of time.

It may not help you get back on schedule, but you shouldn't make customers feel rushed just because you are trying to catch up.

Pre-consult, have a chat or offer something to drink.

This time can also be used to discuss some of the questions that are asked in the consultation room.

Offer solutions when the previous appointment takes longer than expected

Is a different vet available?
Would a different appointment time work?
Offer to admit the pet and offer for the owner to come back later.
Ask the owner: What would they see as a solution?

Next time, part 2: Customer trip; it starts with an appointment.

Related Links:
If you would like to get started with your agenda right away, please read more on our extensive Knowledge-base:
Let's talk about what IDEXX software can do for your practice
Complete the form below and we'll get back to you.
https://software.idexx.co.uk/wp-content/uploads/2018/10/Animana_agenda_Waitingtime_Report.jpg
450
600
IDEXX Software HQ
/wp-content/uploads/2020/07/idexx-header-logo.svg
IDEXX Software HQ
2018-10-04 12:42:59
2023-11-09 10:30:28
A flawless customer journey, it all starts in the waiting room! – Part 1