"Yesterday you said tomorrow"

4
mins
If you've ever put something off until tomorrow, you know how easily "tomorrow" can turn into "yesterday". Everyone procrastinates sometimes, often with tasks that you find difficult or discouraging. A while ago we came across a message on LinkedIn that read "Yesterday you said tomorrow". The text stuck with us.
Because content is volatile on LinkedIn, we were unable to find the original post. But luckily, the ever-watching eye of Google was able to help us see that post was part of a large campaign by Nike. Their powerful, minimalist ad is a marketing masterpiece; it uses basic colours and clean typography to reinforce the message: stop procrastinating and start. There is nothing more to add, as the full stop at the end of the sentence indicates.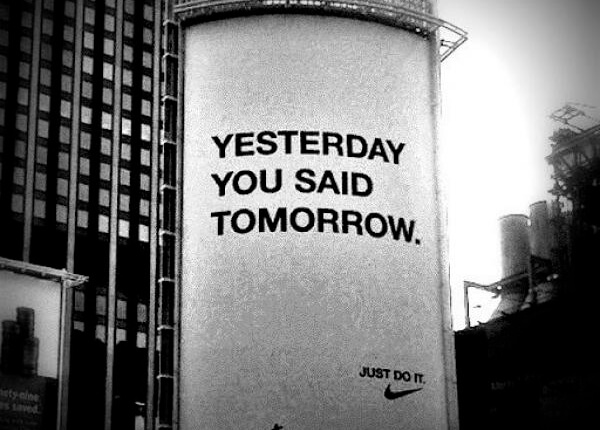 Juggling tasks
As an employee in a veterinary practice, you are familiar with hectic times. Whether it's an influx of (urgent) patients or juggling tasks when your colleagues are on vacation – how do you keep the balance, achieve goals and ensure optimal care without getting ahead of yourself? Nike's message can help with this.
Just as Nike understood the barriers and excuses that keep people from exercising, it's important to understand what keeps you from completing tasks or achieving goals in the real world. Is it the fear of making mistakes? Would you rather not do it if it can't be done right? Are you overwhelmed by the amount of work? Once you see what's holding you back, you can work on how to start.
The image also featured Nike's famous "Just Do It" slogan. This powerful message – of action, strength and perseverance – is an inspiration whether we're running on a track or working in a busy veterinary practice. "Just Do It" is fair and clear: just start and the rest will follow. You know that the first step is the hardest.
Nike understands its target audience well – they know that procrastination is a major pain point for many people. This understanding is the result of thorough research and understanding of consumer psychology. As an employee in the veterinary practice, you can also use this.
In a hectic period, Animana can help you
Working in a veterinary practice is sometimes like being a top-level athlete. There are days when you feel like you're running a triathlon and fortunately, there are usually also quieter periods afterwards. Animana is, of course, not a sports brand, but it can support you to stay at the top of your game. Take the busy holiday season, for example – ensure you are using Animana to its full potential to ease busier periods. Below are some examples:
1. Appointment reminders
Prevent no-shows with an appointment reminder. From the diary, you can easily send a text message at the start of the day to remind pet owners of their upcoming appointment. Tip: provide them with an easy way to reschedule their appointment: so you can offer their old appointment time to another customer – after all a rescheduled appointment is better than a no-show.
2. Online appointment management with Vetstoria
Did you know that our integration with Vetstoria's online appointment booking can save you a lot of time? User experiences tell us that Vetstoria removes a lot of telephone pressure from the practice, so there's more time to spend on your other tasks. Promote the use of Vetstoria among your customers by working with QR codes on (printed) marketing materials and share the link in your email, SMS text messages and email signatures.
3. Take a critical look at your diary
n practice, the diary is your lifeline throughout the day. Good agenda planning leaves room for unexpected events, has the flexibility to run in, or out of time, and has moments for rest. Earlier we wrote several articles that may inspire you:
4. Take care of account requests using the Animana help hub
With the arrival of the Animana help hub, you can handle more and more account requests yourself. Via this link you can enable or disable integrations, make account requests and other changes to your Animana account. It will save you a lot of time.
Be inspired by Nike's message. With understanding, perseverance and a little inspiration, we can overcome the challenges of the busy holiday season. We all can be legendary in our work, just like Nike in its marketing. Let's tap into that potential and start today. "Let's do it!"
Let's talk about what IDEXX software can do for your practice
Complete the form below and we'll get back to you.
https://software.idexx.co.uk/wp-content/uploads/2023/07/Yesterday-you-said-tomorrow-blog.jpg
1072
1608
IDEXX Software HQ
/wp-content/uploads/2020/07/idexx-header-logo.svg
IDEXX Software HQ
2023-07-27 09:00:54
2023-07-27 12:53:38
"Yesterday you said tomorrow"